🐱50% OFF! - 3D Simulation Electric Fish Cat Toy 🐟

This Is A New MUST Have For Every Cat's and dog Toy Collection!

 This Fish Kicker Moves On Its Own!

 Buy 2 More than Two and get FREE Shipping! 
 USB Rechargeable Motor Kicks Just Like a REAL Fish.

 Potent - Premium Grade Catnip Inside!

 XL in Size  - Length: 11 inches (30 cm).

 Refillable - Hidden Velcro Pocket To Refill Catnip Over And Over Again!

 ON/OFF Button Inside The Velcro Pocket.

 Watch Your Cats Be Amazed By This Realistic Fish Kicker!
3D Simulated Electronic Fish: 
pet's favorite electric imitation fish.No more worrying about not having time to play with your pets.
 💖3D Simulated Electronic Fish: Also a good helper for mother.
       Floppy fish+mama roo=happy baby
It is equipped with battery and USB interface for quick charging.
Material: plush
Weight:150 g
Fish head, body, and fishtail have been added catnip, easy to catch cat's interesting. 
Soft and cuddly and perfectly sized to bat and carry.
A strong aromatic fragrance is a cat's favorite. When Place them in direct sunlight, the fragrance will come back again.
Rechargeable Design: 
Built-in rechargeable battery case, no need to buy batteries.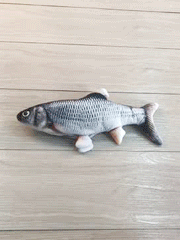 😸😸Endless Fun:
The catnip toy has a strong, aromatic fragrance that stimulates the cats to play, your pets will crazy about these catnip toys, you and your cats will get a lot of joy.
Safety& Security: Eco-friendly and non-toxic material is healthy for cats and other pets. These toys feature bright colors that are not easy to fade; the pattern on toys is vivid and looks like real fish food.
Satisfaction Guarantee: Prompt replacement or refund is available if customers get any faulty or malfunctioning products. If any problems and concerns, pls feel free to contact us.